Here's another roundup of Steampunk themed podcasts I either listen to regularly or at least selectively. If you know of any new podcasts in the Steampunk genre, please mention them here in the comments section for others – like me – to enjoy!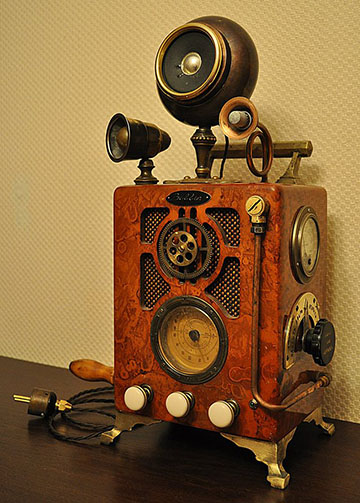 Clockwork Cabaret
https://www.agonyauntstudios.com/
This is a regular podcast / radio show that covers the newest Steampunk music from around the country as well as old faves like Abney Park and Steam Powered Giraffe. Give a listen, they have a huge back catalog and each show is guaranteed to provide at least one new song you wouldn't hear anywhere else.
Ministry of Peculiar Occurrences – Tales from the Archives
http://www.ministryofpeculiaroccurrences.com/
A collection of short stories all based in Pip Ballantine and Tee Morris' world of the same name. They have many novels out which are great too, but if you aren't already familiar with them this is a nice free way to get your audio feet wet in the adventures of the Ministry!
Omega Contingent
http://adventuretheater.net/omega-contingent/
"It's time to climb aboard the Airship Peregrine and join the crew of five extraordinary individuals: the ninja, the giant, the marksman, the genius and the alchemist. Share the adventure as they circle the globe in their battle to defeat the chaos and tyranny that threaten to rewrite history."
Do enjoy,
Genteel Magistrate