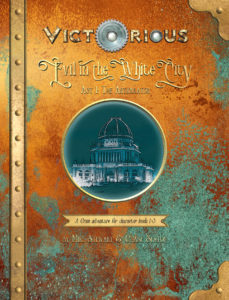 Greetings all,
The first part of the upcoming Evil in the White City supplement for Victorious has been released on DriveThru RPG!
Act 1 involves a missing student, a curious skeleton, and the lair of…the Articulator! This first part of the four-part book on the 1893 World Columbian Exposition in Chicago is a Grim adventure for low-level heroines. Will your costumed crimefighters dare discover the nefarious secrets hidden within the fairgrounds; the "White City"? This act, written by Chase Slaton, will lead heroes into the dark underside of the glittering spires of the Columbian faire, the Wild West Circus, and the infamous Midway betwixt them all.
Download it now at:
https://www.drivethrurpg.com/product/285099/Victorious-Evil-in-the-White-City-Act-1-The-Articulator
Get your copy today!
Genteel Magistrate