Capes & Clockwork: Superheroes in the Age of Steam Vol. 2
Return again to a forgotten time when steam and clockwork powered the world, and heroes rose to battle against the sinister forces that threatened the world. Some former heroes return to the fight, while new ones rise up in this fusion of fantasy, beauty, and adventure. Tease your imagination with twenty stories of good versus evil, monster versus hero, steam versus muscle.
Writing as M.D. Stewart, Mike Stewart pens a short story set in the Victorious universe called "To Catch a Unicorn". Available in paperback and Kindle format.
Paperback: 382 pages
Publisher: Dark Oak Press (July 26, 2016)
Language: English
ISBN-10: 1941754546
ISBN-13: 978-1941754542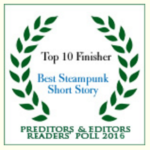 "To Catch a Unicorn" was a Top 10 finalist in the 2016 "Preditors and Editors" Readers Poll for Best Steampunk Short Story!