Hello all,
A 4 day convention, an allergy attack Saturday, and con crud this past week has conspired to keep me from writing this recap of the Victorious game I ran Friday at the con from 1pm–5pm. Until now, that is! I decided to do things a little differently this year and instead of the standard super-heroic adventure with upholders of law, I created a game where the players took on the roles of second and third tier villains from the Victorious rulebook and Phantasmagoria supplement.
An Evening's Proposal
The game began with the following super villains gathered at the Empire Hotel in Piccadilly London: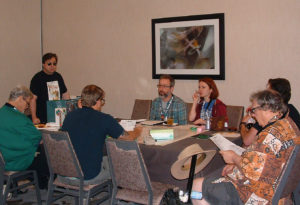 Blackguard – An armored mystical villain whose dire deeds date from the era of King Arthur (played by Steve Perrin)
Blast – A member of the Dynamiters who uses her powers to discorporate into energy and fire bolts of force against her foes (played by Ala Federova)
Comedy – Carmen Edith Dee, the mad child of the aristocratic Dees, who uses her agility and manic laughter to sow chaos in her wake (played by Elizabeth Stewart)
Hooligan – A rum sort of fellow who uses his strength and agility to earn a dishonest day's wages; no matter who is paying the tab (played by Todd Sharp)
Hotspur – A member of the villainous group The Dynamiters, with flame powers and jumping ability (played by Gabe Rotberg)
Mister Hyde – A now-monstrously large man whose motives against Moriarty are well known, or are they? (played by Matt Sims)
Shatter – A woman whose elemental control of earth and stone gives her nominal leadership of the remaining Dynamiters since Bomb's defection (played by Sam Dester)
They gathered around a magic lantern show that projected the photograph of a mask on the wall…and a phonograph played the following message to the assembled criminals:
"Greetings My Hirelings,
You will call me Lord FearGear, and feel honored I grant you such privilege.
You have been assembled to participate, in your own small way, in an epoch-making event of history. This event is no less a duty than to eliminate the one foe that stands between me and my rightful domination of the criminal underworld of Great Britain. That is, the termination of Professor James Moriarty … The so-called "Napoleon of Crime." Some call him this out of respect and admiration. I call him this because, like Napoleon, he will soon be dead.
For each of you I offer the following terms. One thousand pounds sterling, paid to you when you agree to take my generous offer. Additionally, I offer two thousand pounds sterling to the single individual who administers the coup de gras to this irritating mathematician. Proof of this will be sufficient by bringing me his head.
If any of you are craven enough to refuse this generous offer, leave now and you will be treated…accordingly.
Lord FearGear has spoken!"
They agree, and begin to track down clues. Due to the short time (4 hours) of the game, the Genteel Magistrate skipped scene 2 and went directly to scene 3. Some clues found among Colonel Tiger Moran's remains lead the villainous gang to a secret subway where a personal train and carriages were escaping with the perfidious Professor! Combat ensued, earthquakes were unleashed, and drowning when the tunnel collapsed became a real possibility. Yet they persevered with only minor wounds (not actually turning on each other, which was a surprise), and completing the mission to the best of their abilities. Once the head was recovered (such as it was) and returned to the Empire Hotel, the bounty was paid and a new business opportunity was open to the miscreants of Londontown…. Whether they would've accepted it or not was never discovered, as only 10 minutes remained.
All in all, I think a good time was had by all. With everyone playing evil characters, I really expected more infighting…but everyone stayed on point and cooperated to an exemplary degree. Between this session and GM Matt's games over Saturday we sold out of Victorious rulebooks so I believe the game helped push the word of Victorious out there.
Genteel Magistrate
(aka Mike Stewart)